What is nighttime factory sightseeing?
In the year 2008, Kawasaki city (located next to Tokyo) birthed a nighttime factory scenery craze that spread across the nation.
People recognized that the myriads of blinking lights and complex industrial constructions created a mystical and awe-inspiring atmosphere.
The Keihin industrial district which spreads along the seaside of Kawasaki city is particularly famous for its industrial sights.
The many tours and sightseeing packages that allow visitors to enjoy the night lights from boats and buses have seen huge popularity with domestic and international tourists alike.
The chimneys and factory buildings that loom out of the darkness stimulate the imagination with their spaceship-like appearance. Some of the chimneys even spit flames!
The difference between the industrial district at night and during the day is, as the saying goes, truly night and day.
Many photographers visit with their cameras to capture fantastical images that look straight out of a science fiction movie.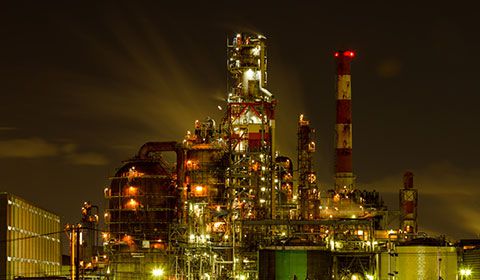 The best times to go on a nighttime factory tour
One of the best times to enjoy nighttime industrial scenery is on a clear night after it has rained. The clear air after rain has washed all the dust away makes for great views.
Another opportune time is on a winter day when the air is dry and clear of fog and other water vapor.
SPOT
Kawasaki city
Kawasaki city neighbors the capital of Japan, Tokyo, and boasts a population of around 1.5 million. It is in a very convenient location and offers easy access to central Tokyo city. The city is also very lively with a young average citizen age and the highest population growth rate in the country.
Kawasaki Station offers access to Haneda Airport and Tokyo Station in under an hour and is also accessible by train from Narita Airport via Musashikosugi Station. The many highways also allow access from major cities across the country.
Kawasaki city has unwaveringly served as the core of the Keihin industrial district both before and after the Second World War.
The city and industrial district have and continue to serve the Japanese economy through the many industries; steel, petrochemical, chemical, electronics, communications, and more as well as the many technically spectacular startups in the area.