Plan details and schedule
<Menu>
Galactic Lunch Courses:
● Galaxy Lunch Meat Course
● Galaxy Lunch Fish Course
● Galaxy Memorial Lunch Course
● Chefs Special Full Course Lunch

※ All courses come with bread and coffee.

● Lunch Set (Elementary School Students & Infant):
Hamburger / Rice Gratin / Cream Soup
French Fries / Fried Chicken / Fried Shrimp / Edamame
Dessert / Bread / Juice

<Schedule>
11:30 Boarding Reception Begins
11:45 Boarding Starts
12:00 Departure from Hiroshima Port
     ~ Through Ōsu Seto ~
     ~ Off the Coast of Enoshima ~
     ~ Off the Grand Torii Gate of Itsukushima Shrine ~
13:25 Arrival at Miyajima Port

 ★ Miyajima Grand Torii Gate Offshore Deck Time
  The ship will anchor off the Grand Torii Gate of Itsukushima Shrine, allowing for deck time (approximately 5 minutes).
  You can make a solemn bow (2 bows, 2 claps, 1 bow) from the ship or take commemorative photos with your friends, enjoying a unique experience exclusive to the Galactic Lunch Cruise.

13:30 Departure from Miyajima Port
14:30 Arrival at Hiroshima Port
※ The route may be subject to change without prior notice due to weather and tide conditions.

Meat Course reference image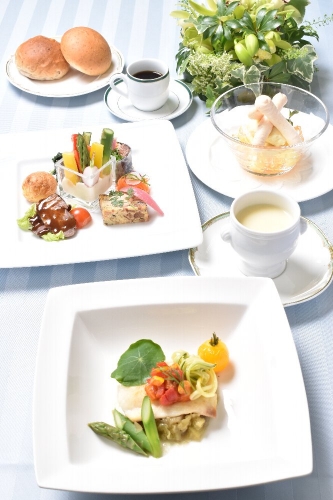 Fish Course reference image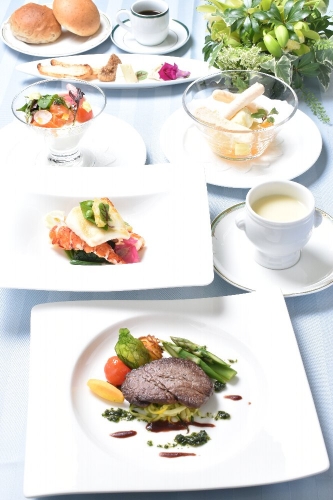 Chefs Special Full Course reference image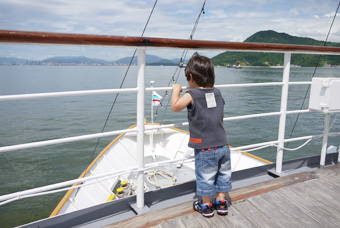 You can walk in the control room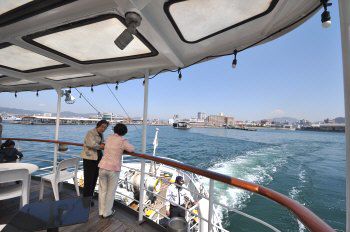 Beautiful view of Seto Inland Sea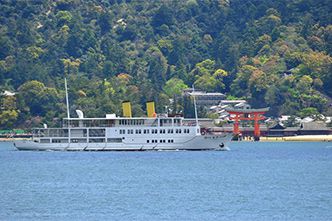 Itsukushima Shrine and Torii gate from the deck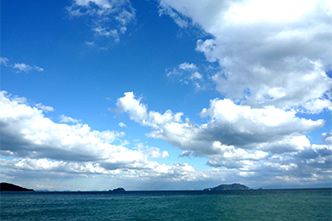 View of islands from the deck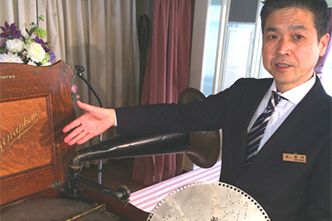 Antique Music Box Live

Course highlights
<Enjoyment Points Onboard!>
★ Antique Music Box Concert
Regina Phonograph
Manufactured in the United States in 1910
A combination of a music box and a phonograph

Onboard, we will perform music with this over 100-year-old antique music box. We hope you and your loved ones can experience the wonderful flow of time together.

Hiroshima Bay Cruise Galaxy [COVID-19 Prevention Measures]
・Checking the health condition and taking temperatures of employees before starting work.
・Taking temperatures of customers before boarding.
・Placement of alcohol disinfectant in various areas onboard.
・Thorough use of alcohol disinfectant and cleaning of various areas onboard (handrails, doorknobs, chairs, tables, toilets, etc.).
・Service staff wearing masks.
・Ventilation of the ship (proper operation of ventilation facilities, opening doors).
・Installation of acrylic panels for preventing splash infection.
・Limitation of onboard seating capacity and avoiding face-to-face arrangements.
・Requesting customers to perform hand sanitization and cough etiquette (including wearing masks) and to refrain from unnecessary conversations.

In addition, Hiroshima Bay Cruise Galaxy is participating in the "Hiroshima Prefecture's Efforts for COVID-19 Infection Control" and "Hiroshima Active Guard" programs. We kindly ask our customers to actively use the "Hiroshima COVID Notice QR" system.

(Note: "Hiroshima COVID Notice QR" is a system for COVID-19 contact tracing and notification in Hiroshima Prefecture.)

(Note: The term "phonograph" is used for "蓄音機," which refers to an early version of a record player.)
Important notices
※For those with food allergies, etc.
If you have any food allergies or ingredients that you are not comfortable with, we can make menu adjustments to accommodate your needs. We can also prepare large or hard-to-eat ingredients in smaller, more manageable portions. Please feel free to inform us of your preferences at the time of booking.

※Closed Days
Mondays and Tuesdays: Regular holidays
Periodic Inspection (Docking) Period: Approximately 15 days from January to February
Year-End Closure: December 26th to December 31st

Meeting time
11:30Boarding registration opens
Meeting location
Ujina Port Building (Hiroshima Port Terminal) 1st Floor Galaxy tour registration counterMAP
What to bring
None
Operated by
Setonaikai cruise
Includes
Boat boarding fee, course meal fee, tax, ※ drinks need to be paid for separately.
Cancellation policy
Regarding Cancellations

★★★Individual Passengers★★★   
3 days before : 10% 
2 days before reservation and the day before : 30% 
Day of : 50% 
Day of with no notification: 100 % 
  
★★★Groups★★★  
61 days before : 0% 
Between 60 and 31 days before : 10%  
Between 30 and 3 days before : 30%  
2 days before and day of : 50% 
Day of with no notification: 100 % 
※ Change of number of customers in a group booking will be treated as in the case for individual passengers. |  
         
★★★Chartered Bookings★★★ 
91 days before : 0% 
Between 90 and 31 days before : 10%  
Between 30 and 15 days before : 30%  
Between 14 and 8 days before : 50%  
7 days before and day of : 100%