Plan details and schedule
<Menu>*Menu may change partially due to the use of seasonal ingredients.

●Galaxy Dinner Course

●Galaxy Memorial Dinner Course

●Chefs Special Full Course Dinner

●Dinner Set (Elementary School Students / Toddlers)
Hamburger / Rice Gratin / Cream Soup
French Fries / Fried Chicken / Fried Shrimp / Edamame
Dessert / Bread / Juice

<Schedule>Sunset Dinner Cruise
17:20 Boarding Reception Begins
17:35 Boarding Starts
17:50 Departure from Hiroshima Port
    ~ Off the coast of Itsukushima Shrine's Otorii ~
    ~ Off the coast of Marina Circus ~
    ~ Hiroshima Bay Bridge ~
20:00 Return to Hiroshima Port

*The route may change without notice due to weather and tide conditions.
*On Tuesday to Friday, departure time is 18:50.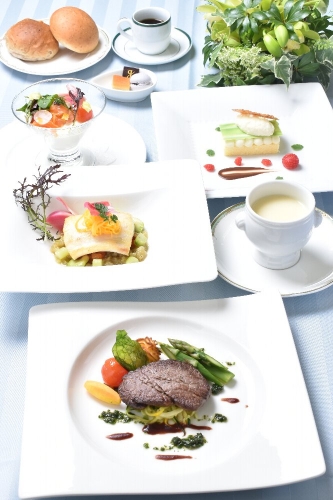 Galaxy Dinner Course reference image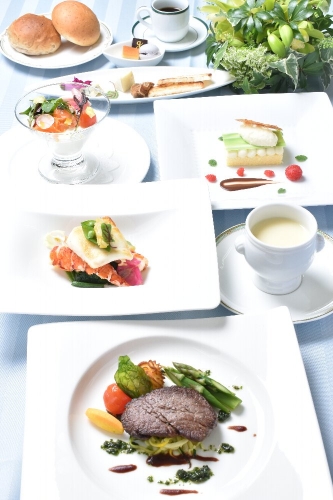 Galaxy Memorial Dinner Course reference image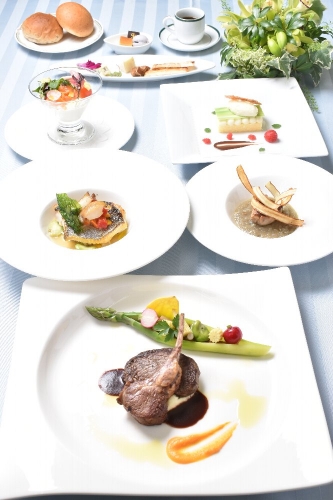 Chefs Special Full Course Dinner reference image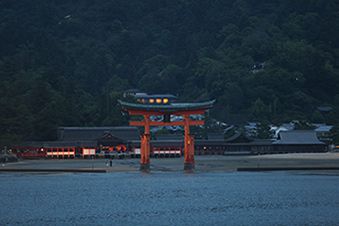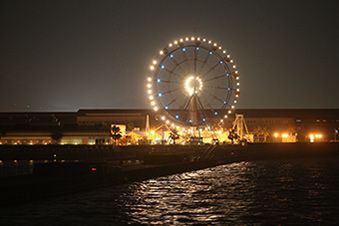 Course highlights
★Live Music Performance
Enjoy daily performances on board with instruments like piano, harp, violin, and more, creating a serene atmosphere for you to cherish special moments with your loved ones. Experience the unique ambiance that only Galaxy can offer. Please note that the performance may occasionally change to an Antique Organ Concert.

★Miyajima Torii Gate Deck Time
We will anchor the ship off the enchanting Miyajima Itsukushima Shrine Torii Gate, allowing you to spend approximately 5 minutes on deck. Admire the illuminated torii gate from the ship and capture the special experience with your companions through a commemorative photo, a one-of-a-kind moment with Galaxy.

Hiroshima Bay Cruise Galaxy【COVID-19 Infection Prevention Measures】
・Health check and temperature measurement for employees before work.
・Temperature measurement for customers before boarding.
・Alcohol disinfection stations placed throughout the ship.
・Frequent use of alcohol disinfection for various areas (handrails, doorknobs, chairs, tables, toilets, etc.).
・Service staff wearing masks.
・Proper ventilation inside the ship (appropriate operation of ventilation facilities and door openings).
・Installation of acrylic panels to prevent splash infections.
・Limitation of seating capacity and avoidance of face-to-face arrangements.
・Request for customers to use hand sanitizers, practice cough etiquette (including wearing masks), and limit conversations.

Furthermore, Hiroshima Bay Cruise Galaxy is participating in the "COVID-19 Infection Prevention Measures Declaration Store" and the "Hiroshima Active Guard Store" promoted by Hiroshima Prefecture. We actively encourage our customers to utilize the "Hiroshima COVID-19 Notification QR code."
Important notices
※For those with food allergies, etc.
If you have food allergies or there are ingredients you don't like, we can make menu adjustments accordingly. We can also prepare large or tough ingredients in smaller, easier-to-eat portions. Please feel free to let us know when making a reservation.

※Closed Days
Mondays and Tuesdays: Regular holidays
Periodic inspections (dock period): Approximately 15 days between January and February
Year-end: December 26th to 31st
Meeting time
17:30Boarding registration opens
Meeting location
Ujina Port Building (Hiroshima Port Terminal) 1st Floor Galaxy tour registration counterMAP
What to bring
None
Operated by
Setonaikai cruise
Includes
Boat boarding fee, course meal fee, tax, ※ drinks need to be paid for separately.
Cancellation policy
Regarding Cancellations

★★★Individual Passengers★★★   
3 days before : 10% 
2 days before reservation and the day before : 30% 
Day of : 50% 
Day of with no notification: 100 %  
 
★★★Groups★★★  
61 days before : 0% 
Between 60 and 31 days before : 10%  
Between 30 and 3 days before : 30%  
2 days before and day of : 50% 
Day of with no notification: 100 % 
※ Change of number of customers in a group booking will be treated as in the case for individual passengers. |  
         
★★★Chartered Bookings★★★ 
91 days before : 0% 
Between 90 and 31 days before : 10%  
Between 30 and 15 days before : 30%  
Between 14 and 8 days before : 50%  
7 days before and day of : 100%