Plan details and schedule
1. Registration, get changed and orientation (approximately 30 minutes)
First sign the application form, then use the changing room to change into your wet suit.
Please use the lockers provided to store any valuables or personal belongings.

2. Please make your way to the boat located in the fishing port in front of the shop.(approximately 5 minutes)
The boat boarding point is about 5 minutes walk from the shop! !
Once you arrive at the boat boarding point, please help yourself to some tea and relax !)

3.Use and learn about the equipment needed during the diving orientation (approximately 10 minutes)
Everything will be carefully explained. !
Any questions you have will be answered for you.

4. Travel by boat to the blue cave (approximately 5 minutes)
Enjoy the beautiful Okinawan sea on the way to the blue cave. !
The boat journey only takes about 5 minutes, so you will arrive before you know it. No need to worry if you suffer from sea sickness.

5. Blue Cave Boat and Diving Experience
Have a commemorative picture taken with the Blue Cave in the background. It will be without a doubt your favorite picture from your Okinawa holiday.

6. When you leave the cave, you can feed the fish with fish food we provide to you free of charge.
Using the free fish food will attract plenty of friendly fish for an unforgettable experience. !

Once you are comfortable you can enjoy swimming in the water.
Once you are comfortable you can enjoy swimming in the water. You can even swim with flying fish.

8. After the diving tour has ended enjoy a warm shower and get changed back into your clothes.
There are 3 female and 2 male shower rooms. A make up area and hair dryer area are also provided. After the tour is finished it is off to the next sightseeing spot.

9. End the tour and receive your SD card with any pictures and videos taken.
Since Onna Viillage, which is home to Sea lovers, is located in the centre of Hon Island you can easily get to plenty of sightseeing spots after the tour.
Manzamou and other sightseeing spots are located nearby.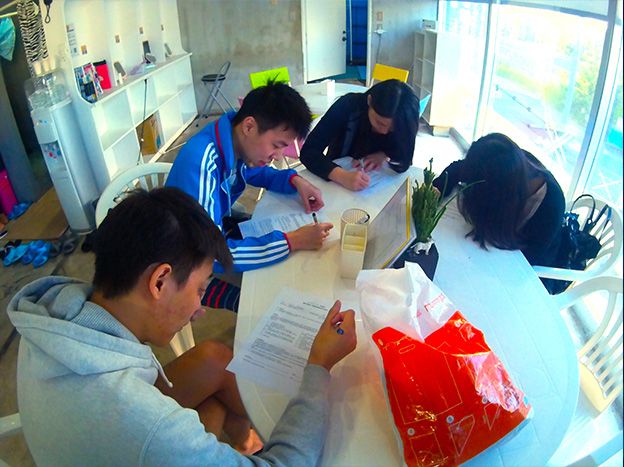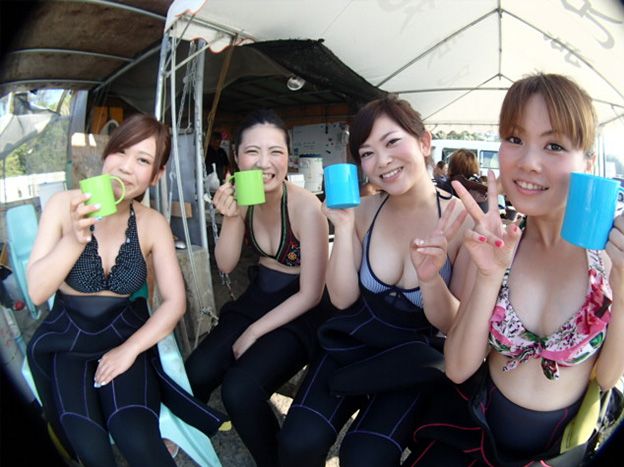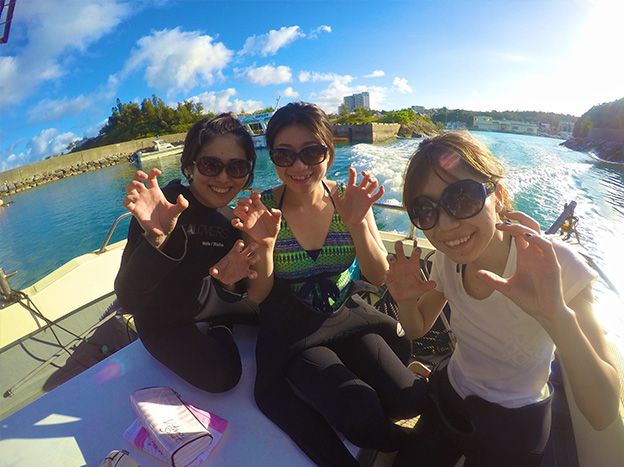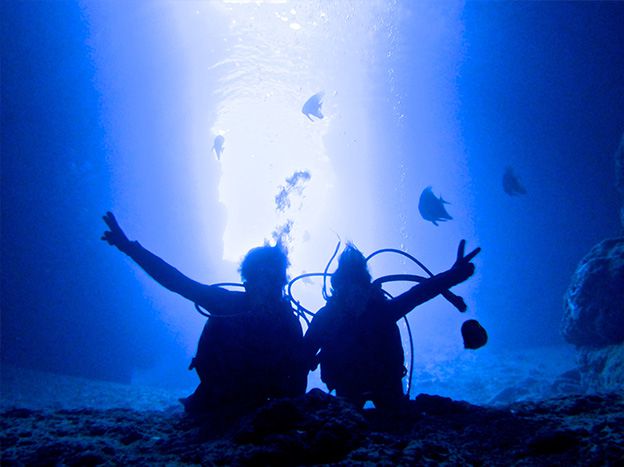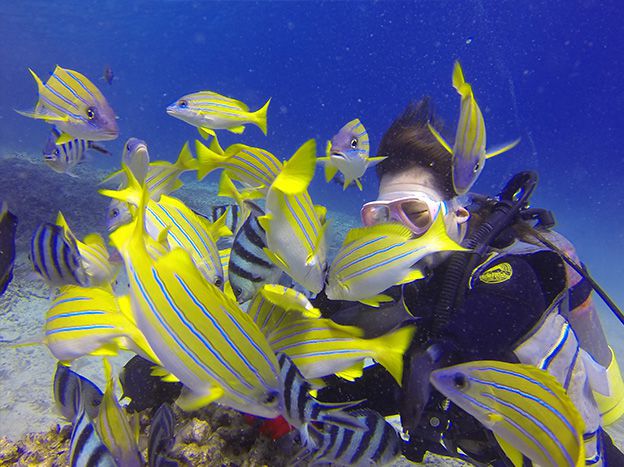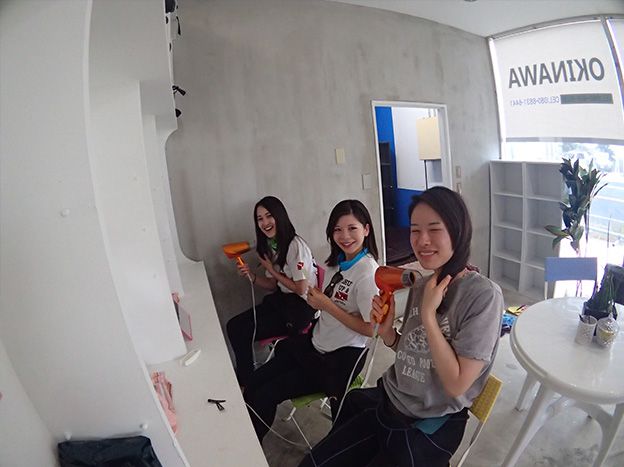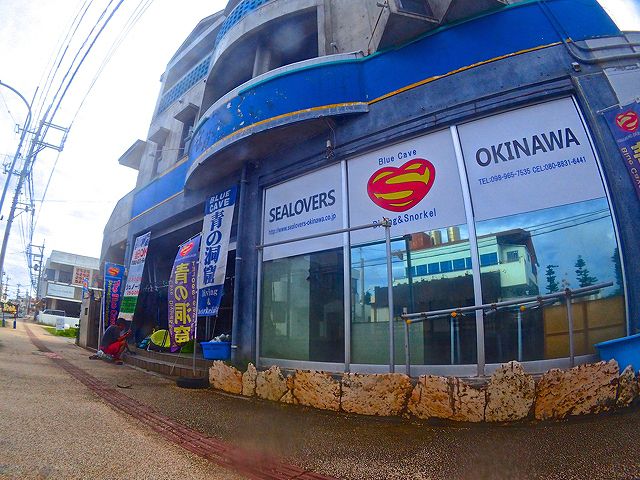 Course highlights
★ Boat and Diving Experience (Important Points) ★

・As we use a boat we are able to gain entry to the cave even on occasions when it is not possible to gain entry via the beach.  
(Due to Typhoon, cyclones, high waves and rough seas, etc. , the tour may be subject to cancellation)
Even during the summer peak season we can still provide you easy access to the cave.
・ We take the burden out of the trip for older passengers , children and those of a weaker disposition allowing for a more pleasant trip.
・ We have a special underwater camera and can provide you with high quality images
・There is also an option for a training dive.
・ 2 dive course for a reasonable price.
・ We will try our best to meet all your requests, so please feel free to ask us for anything.
Important notices
・ Over 9 years old are able to join the tour (some tours require you to be over 11 years old )
・ Participants under 20 need to have permission from a parent or guardian
・ We request that any person over the age of 60 refrain from joining the tour
・Please confirm with a health-care professional Please inquire if you have any questions.
・You are not permitted to participate if you are under medication or have drunk alcohol.
・ After diving you need to leave at least 18 hours before you board an aeroplane.
・On the actual day, due to bad weather or rough seas, the tour may be subject to change.
| | |
| --- | --- |
| Meeting time | 15:00 |
| Meeting location | Sea Lovers ( Okinawa Kunigamigun Onnason Maeganeku 152-1)MAP |
| What to bring | Bathing Suit / Swim wear and towel |
| Operated by | SEALOVERS Okinawa |
| Includes | Boat fee, instruction fee, equipment rental, insurance fee, photography (including data), fish food, shower, changing room, and tax. |
| Cancellation policy | |